Due to the situation with the corona virus, all events and performances must unfortunately be cancelled through Easter.

You can find further information here.

Digitally, the opera house will continue to be present. In February, we will broadcast four productions live into your living room. You can find our digital performances here.
«Impulse»: Probentrailer «Entropy»
---
«Impulse»: Probentrailer «Pure Coincidence»
«Impulse»: Rehearsal Trailer «Union in Poetry»
Behind the scenes: «Winterreise» with Giulia Tonelli
With the upcoming live stream, our 1st soloist Giulia Tonelli dances the first time in Christian Spuck's «Winterreise». We followed Giulia to the rehearsals and talked with her about her role and the piece.
more
---
Ballett Zürich awarded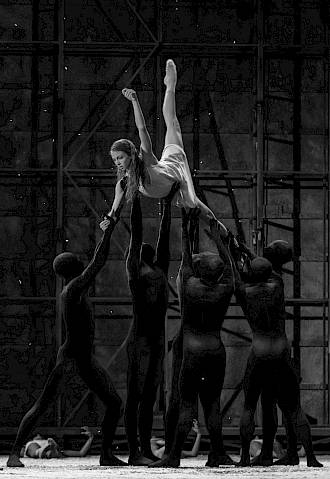 Company of the Year
Ballett Zürich has been named «Company of the Year» by the critics' survey of the renowned magazine «tanz». In addition, Christian Spuck's production of Helmut Lachenmann's «Das Mädchen mit den Schwefelhölzern» has been named «Production of the Year».
---