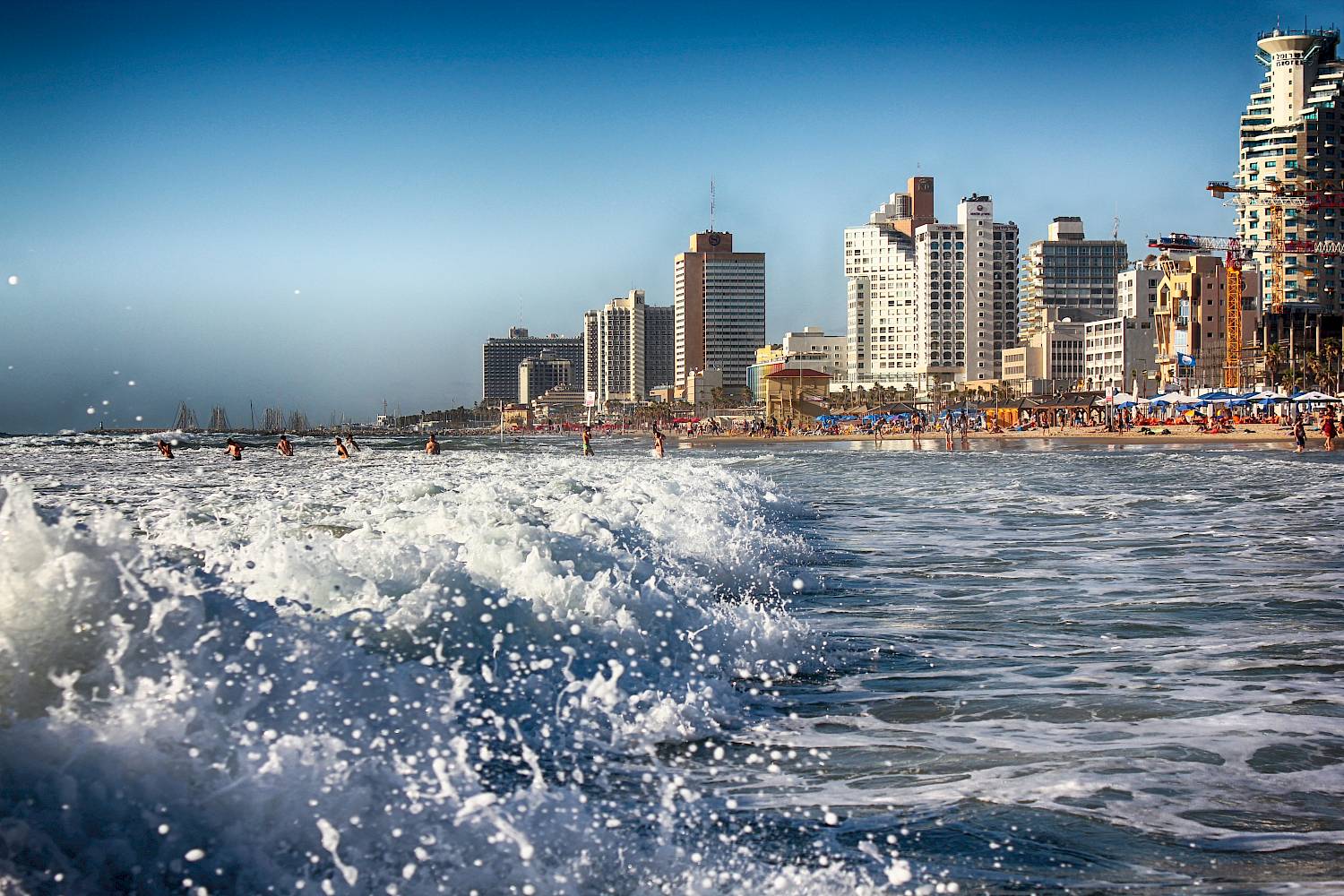 Ballett Zürich
in Tel Aviv
We are ending our season 2017/18 with a tour to Tel Aviv!
After we presented Christian Spuck's «Romeo and Juliet» in 2015 with great success, we incredibly look forward to returning to Tel Aviv and performing for its audience once again! From 26 until 30 June 2018, our dancers are going to present Christian Spuck's «Anna Karenina» at the Israeli Opera in Tel Aviv.
Our tour diary takes everyone at home with us on this tour to Israel's Mediterranean coast! Starting from Monday, 25 June, you will find daily updates here, on Facebook and Instagram!
See you soon!
At 7.30am we meet at the Zurich Airport, at Check-in 1, where a special reception is already awaiting us. ACS Reisen, who organizes group tours alongside our guest performances, arranged an exclusive VIP counter for us – thank you fort hat!
After the luggage is dropped off, we go from the security, over to the next coffee stop to Gate E22. Boarding goes off smoothly and all passengers boarded in a heartbeat, so that we're taking off at 10.03am in direction of Tel Aviv.
Like the Swiss national football team, we are also flying Swiss! And even on board, you are reminded of the current world cup. You are not offered the usual red chocolate bars, but mini-chocolate footballs instead! They were probably there to strengthen us for what was expecting us once we arrived on solid ground... 
After a personal greetings from the pilot, we're landing at 2.30pm in Tel Aviv. In a hall, about the same size as a football field, the passport control is taking place. Our waiting period could be summarized as following: Imagine all spectators standing on a football field instead of the stands. And doing so for about the first half of the match. But good things come to those who wait! A clear blue sky, summer temperatures and three buses await us, once we made it out of the airport. At the hotel, everyone's spending as little time as possible in the room in order to take in Tel Aviv as much as possible. Some reunite with old friends, make a trip to Jaffa or dare a first dip in the sea.
Later in the evening, we see familiar faces again at the supermarket right around the corner of our hotel. It seems as if everyone had the same idea: Prepping for the first whole work day in Tel Aviv!
Anna Karenina - Viktorina Kapitonova - Day 2
Tonight the first performance in Tel Aviv takes place! At the same time, it will also be the final performance of our Principal Dancer Viktorina Kapitonova. We are over the moon to be able to see this extraordinary dancer in the role of Anna Karenina – a role which ballet director and choreographer Christian Spuck created on her. Here's how she experienced this special day and performance:
***
My day started when my alarm went off at 7pm. I had a good sleep, as I enjoyed a long stroll at the beach yesterday evening together with my family. I am very happy that they were able to join me on my last tour with Ballett Zürich. As my husband and my son were still asleep, when I woke up, I got ready and had a quick breakfast. Afterwards, I had my first live radio interview. Even though, I was quite nervous, I think it went very well. By now, my men are already awake and I enjoy a little breakfast with them, before leaving for the first dress rehearsal at the theatre.
At the theatre, I have to get my hair and make-up done. Before I put my costume on and fully transform into Anna Karenina, I go to class and warm up my body and especially my feet. Unfortunately, the costumes fell off the rack during the transport, so that our dressers had to iron every single dress! But as always, our staff is always so supportive and does not only care about the costumes but also how we are feeling. Now, I can slip into my black dress and prepare myself to go on stage where I meet Vronsky!
As this is the first time on stage since our guest performance in Hong Kong, not everything goes smoothly. But this makes me even more excited to dance it tonight! However, before I could rush back to the hotel to see my family again, I had to fulfill my last press duty. After a TV interview during intermission, I had to give another TV interview once the dress rehearsal has finished.
At the hotel, my son was already eagerly waiting for me. Since we didn't have a lot of time on our hands and I wanted to be well rested before the performance, we simply ordered room service. We managed to get a quick nap all together before I had to take the shuttle bus back to the theatre.
The pointe shoes that I am wearing for tonight's performance of Anna Karenina are also the same pointe shoes with which I danced my last Swan Lake in Zurich. This pair means so much to me now, I will never give them away!
When my right eye wouldn't stop tearing up, my hairdresser Corinne told me the saying "crying with one eye and laughing with the other". I guess this saying is meant literally! J As much as I look forward to my next project (which I unfortunately cannot announce until later this summer), I am going to miss Zurich a lot!
Before I go on stage for Anna Karenina, I only have my first entrance, where Anna is going to Moscow to meet Stiva, in my head. Afterwards I let it everything coming to me, including all emotions that I go through in each scene.
When I danced my last performance of Swan Lake, I suddenly became very nervous. I didn't know it then, but afterwards I realized that I felt this way, because subconciously, I realized that this is my last performance in Zurich. Knowing that, I was able to cope with this feeling much better, so that I was really able to enjoy this performance a lot.
And now, I look forward to enjoying a few days with my family in this beautiful city, do some sightseeing and relax at the beautiful beaches around here! But first, we'll go to the reception held by the Swiss embassy!
***
Gallery
A day with Viktorina Kapitonova
And so, an eventful day and night passes! Viktorina Kapitonova really delivered a stunning last performance and was much celebrated by the audience as well as by all her colleagues and the Swiss Ambassdor Jean-Daniel Ruch! Right after the performance, a special surprise awaited us: the composer Josef Bardanashvili, whose music our dancers also dance to, came backstage to congratulate us on a successful performance! Tired from all the impressions, we now take the bus back to our hotel.
In the foyer of the theatre, the Swiss Embassy held a reception with a savoury buffet, which was much appreciated by everyone involved in this tour! After a welcome speech by the Swiss Ambassador Jean-Daniel Ruch, we let the first show day slowly come to an end...
Last, but not least - Dear Vika, words couldn't express how much we thank you for all the passion and inspiration that you passed on to us in every performance for the past eight years. We wish you only the best for your future and hope to see you soon again!
Gallery
Reception by the Swiss Embassy in Tel Aviv
Count Vronsky - Alexander Jones - Day 3
On this tour we have three casts for five performances. After the cast with Viktorina Kapitonova as Anna Karenina successfully kicked off our tour yesterday, we are having another round right away. Tonight, Francesca Dell'Aria, Manuel Renard and Alexander Jones will be seen in the leading roles. For this reason, Alexander Jones is telling us more about the day of his Israel premiere:
***
I went to bed at around midnight and woke up at 8am today. When I have a show the next day, I always try to go to bed before midnight. On a show day, I follow quite a strict regime, which leaves me with no free time. However, since William Moore danced the role of Vronsky yesterday, I was done by 3pm and was able to explore the city a little bit, as I have never been to Tel Aviv.
First, I thought about visiting the Art museum which is located right behind the theater. But since the Karmel Market only opens Tuesdays and Fridays, I postponed my visit and started walking from the theater, down King George's street, all the way to the Karmel market, where they are selling all kinds of spices, sweets and food.
Right behind the Karmel market, there's a local artisan market. After a quick stroll, I ended up buying a few pieces of jewellery. After talking to the shop owner for a while, it turned out that she was going to see 'Anna Karenina' today! What a coincidence!
Afterwards, I went to the Suzanne Dellal Center, a center for theater and dance. On the way there, I walked down the Shabazi street which is home to many nice shops and passed Neroli, a vegan and organic restaurant, which is said to have the best shakes in Tel Aviv. I also grabbed some "Pad Thai" to go along with the shake.
From the Suzanne Dellal Center, I went to Ha Tachana, the old Tel Aviv-Jerusalem railway station. This area looks very new, except for huge cactus tree – I have never seen a cactus this big! People are already starting to decorate and prepare for White Night which takes place tomorrow. White night belongs to one of the biggest cultural nights of the year with many events and performances happening all over the city.
On the way to the beach, I pass the Etzel museum and found a nice spot next a little bridge to have my lunch/dinner from Neroli. By now, the sun is already down, but we still see the dark orange/red colours in the sky from the sunset. Nature is so beautiful!
Once I finished my dinner, I crossed the bridge, where can make a wish, and watched the waves coming in. In order to return to the hotel, I decided to walk along the coastline. I was actually looking out for turtles, as we saw one the night before. But that turtle just got lost probably.
There was a really nice atmosphere and there were several places all along the coastline from where you could watch the world cup, so I was always keeping track with the score of the Argentina game.
Gallery
Alexander Jones's first impressions of Tel Aviv
I am very lucky that I do not dance in all performances, otherwise, I wouldn't have been able to take in as much from this city as I did yesterday. As I said at the beginning, show days are always very strict – also today:
I woke up at 8am, went to the shower, had breakfast at 8.30am and took the bus at 9am to theater. I got ready for class and did the run-through on stage, before taking the bus back to the hotel again. I had a quick lunch at an all-organic vegan place together with my colleagues Chris and Irmina who will also be seen tonight as Betsy and her companion. Back at a hotel, I took a cold shower, as it is really hot outside, before I crawled under the blanket again to unwind and have a nap before the show. At 5.20pm I take the bus to theater, where I had some coffee and got ready for the stage.
The performance was really good and I enjoyed it very much. I am so thankful to have such a great partner in Francesca - I simply love dancing with her! After the performance, ACS Reisen invited a few dancers for a little reception together with their group. We had a very good time and it was so nice to see how much they liked the performance! It was great to see everyone who came all the way from Switzerland - not only to visit Israel, but also to see one of our guest performances.
Tomorrow, I look forward to another (half) day to explore Tel Aviv, as William Moore is dancing the role of Vronsky!
See you around!
Alex
Gallery
Second performance in Tel Aviv
Anna Karenina - Katja Wünsche - Day 4
It's already our fourth day in Tel Aviv! However, we're far away from a routine, as we are also presenting a new cast tonight: With the role of Anna Karenina, our Principal Dancer Katja Wünsche is going to dance her first big role after her injury last year. Now, she's sharing with us how she's experiencing this special day:
***
I woke up very early, because my boyfriend arrived here at 4am from Switzerland! But my day didn't start until 7.30am. For breakfast, I had some oatmeal. Sometimes I also enjoy a croissant, but when I know, there's a long day ahead of me, I prefer to eat a muesli, whole grain bread or what I had now, oatmeal. This will give me enough energy for the day.
At 8.30am I take the shuttle bus to the theater. Even though, we are only having a stage rehearsal, I still have to do my hair and make-up, to have something like a first run-through for my hair and make-up as well. After our class on stage, we proceed with the stage call, where we focused on the scenes with me as Anna Karenina, Elizabeth Wisenberg as Dolly and two group dancers. It is the first time for me in 1.5 years that I perform Anna Karenina on stage again. Or let alone, that I am performing such a big role, as I broke my foot during our tour in Stuttgart a year ago. But we have been rehearsing Spuck's choreography since April, so I was pretty satisfied with today's stage rehearsal.
After the rehearsal I return to the hotel, where I prep my pointe shoes. This has always been a big topic: me and my pointe shoes! All in all, I prepared five pairs for the performance tonight, but we'll see if I'm actually going to use one of them.
First, I'm showing my boyfriend a little bit of Tel Aviv – or at least the surroundings here, as there isn't a lot of time. So, we quickly grab lunch, walk around, get some food for tonight and put our feet up, before I have to go to the theater again.
Once I'm done with hair and make-up, I have to face THE question: "Which pair of pointe shoes to wear?" And then, the even bigger question: "Will they endure a whole performance? Next to the five pair of shoes that I prepped at the hotel, I also have a whole suitcase full of pointe shoes with me. But the answers to these questions will probably come to me after the warm-up, as my feet will feel differently in pointe shoes, once they are warm. But I definitely need to remove a bit of paint from the pointe shoes I already prepped. Otherwise, it will end up on Will's costume!
At the end, I ended up using two pairs of pointe shoes. But, I always had a spare pair in the wings just in case.
The performance was great and I am very happy. It was a very emotional moment for me, because Anna Karenina is my first leading role in a longer ballet since I broke my foot a year ago while on tour in Stuttgart. I couldn't do any sport for a while, which sometimes felt like torture to me. But this performance showed me, that I can finally leave this injury behind me and that I can rely on my foot again.
After the performance at the stage door, I met my former teacher Tamar Ben-Ami again. She taught me modern dance in Berlin and intensely worked with me on the Prix de Lausanne. We formed a special bond ever since. I am so glad that she and my boyfriend were able to share this moment with me, and that we can toast to that together!
See you soon again,
Katja
Gallery
One day with Katja Wünsche
Anna Karenina - Francesca Dell'Aria - Day 5
Time really flies here in Tel Aviv! We are shortly before our performance no. 4 out of 5 in Tel Aviv! Today, we will see Francesca Dell'Aria as Anna Karenina, Alexander Jones as Count Vronsky and Manuel Renard as Alexei Karenin. Our soloist Francesca Dell'Aria is going to report from today's happenings:
***
Today, we have a matinee performance, which means that we have no rehearsals before and we can go to the theater later than usual. So I set my alarm for 9am and by 9.40am I already had a toast with butter and honey as well as a yoghurt with granola for breakfast.
I'm going to the theater at 10am. As usual, I like to listen to some electronic music in order to get in the mood for the show. At the theater, I'm going straight to get my hair and make-up done. For me, this is always a very relaxing moment, where I can really focus. It almost feels like a meditation.
Afterwards, I go to the warm-up on stage. Once we're through, not only my body and my feet are warmed up, but also my adrenalin production is running on high. Even the slightest signs of tiredness have completely disappeared and I can't wait anymore to go on stage and do my best!
All in all, I brought nine pairs of pointe shoes for this trip. I already used six of them, so now, I have to decide which pair I'm going to use for the first part of the show, the second and emergencies. Choosing the right pair is probably the most difficult decision a ballet dancer has to face before a show.
Compared to my first performance in Tel Aviv, I feel much better. I recovered from the journey and managed to get sufficient sleep, so that my adrenaline level is higher than last time. Maybe it is also because of the significance of today's performance today: It is the farewell performance of Manuel Renard, who took a job as a ballet master at Theater Basel starting from August. It could also be that I feel more comfortable on stage, now that I got used to the size and the stage of this theater. However, it probably is a bit of everything. Regardless of what it is, I'm really enjoying it.
With the last curtain, everyone's in each other's arms. Saying goodbye to Manu was hard on everyone. He not only is a highly regarded and much appreciated colleague, but also became a close friend of mine. Thank god, he's flying back with us, so that we can have an intimate farewell dinner to toast on our time together tonight.
Since the performance began already at 1pm, we have a good amount of time to kill until we need to head to the restaurant. So we quickly go to the hotel, pick up our swimsuits and immediately go to the beach. It's been a while since I've been to the beach – so long, I cried a few tears of joy. Life is really good right now – we're in Tel Aviv, the sun is shining, we're swimming, eating delicious fruits and we're so close to vacation! Even though I still have to dance a smaller role tomorrow, I already feel a strong sense of relief, now that the performance went so well!
A presto!
Francesca
Gallery
A day with Francesca Dell'Aria
Count Vronsky – William Moore – Day 6
Tonight, the dancers of Ballett Zürich and Junior Ballett are going on stage for the last time. With tonight's performance, not only our tour to Tel Aviv comes to an end, but also the season 2017/18. Before everyone disappears into their well-deserved summer break, our Principal Dancer William Moore, who was awarded for this extraordinary performance this season with the Dance Prize of the Friends of Ballett Zürich, is going to share how his last work day with Ballett Zürich went!
***
Today was the first time, I could sleep in. Our performance isn't until tonight and since we already had four performances including almost four whole run-throughs, they decided to do the performance without a rehearsal in the morning.
So, I woke up at about 10.50am in the morning and got ready as quickly as I could, because I really wanted to go surfing! I have been a real nerd about surfing since I was a little boy. Even though my home in England was about a five hour's drive away from the next surf spot, I never minded the time to go there.
Luckily, you can reach the surf spot in Tel Aviv within 15min by foot. There's also a surf board rental nearby, where I got a surfboard for NIS 100/day. Equipped with a surfboard and lotioned with sunscreen, I'm off catching waves. I could have spent the whole day in the waves. However, I can't stress my body too much, because of the show tonight.
At the beach, I meet other dancers from Ballett Zürich and I enjoy a big bowl of Hummus with Pita bread with them, before going back to the hotel to rest and recharge my batteries for tonight's performance.
At 6pm, I take the shuttle bus to the theater, where we start with a class on stage. Afterwards I get ready for the rehearsal. I stretch, slip into the role of Count Vronsky by putting my make-up on and changing into the costume, and envision the choreography for myself. Backstage, I met Egor Menshikov, an old friend of mine who the Zurich audience might still be familiar with, as he was dancing with our company in season 2012/13.
So, I did the show and it went very well. I'm quite happy with it, as I managed to improve on some steps I wasn't quite happy with in the previous shows. Artistically, I felt very good, but of course, it never runs as smooth as we would like, but that's a live theater for you. But at the same time, this also is what makes this art form so special.
Afterwards, I met Egor again and took the shuttle bus back to the hotel. I quickly put my stuff in the room and meet up with a few dancers again. We went for food and drinks to celebrate Irmina's birthday, the successful tour and the end of a great season. We are all in a great mood and so we ended up at the beach watching the sunrise.
While others are already leaving for vacation on Monday, I still have three more days of work to go. I'm collaborating with a few artists on a private film project, for which we are going to shoot in Ticino on Tuesday and Wednesday. The video will be online within the next months – I'll keep you updated!
Cheers,
Will
Gallery
William Moore in Tel Aviv
Together with our last performance in Tel Aviv yesterday, we were not only through with our guest performances, but also with our season 2017/18! Our dancers are on their well-deserved summer break! However, there's also a bit of melancholy in the air, as this means farewell for a few of our dancers at the same time. But instead of letting melancholy take over, we toast to our time together, new friendships and a great tour! Since we don't leave for the airport until lunchtime, the festivities won't stop until the early morning either.
By that time, our technicians are also through with their work. They did not waste any second and started with the deconstruction right after the last picture was taken. However, two of our technicians have to stay for one more night. Because of the Shabbat, it was not possible to load all boxes already, which is why they need to take care of the rest of the freight this afternoon.
Except for the two of them, all 72 participants meet at noon in the lobby of the Grand Beach Hotel. There are already two busses waiting in front of the hotel to get us to the airport. After a good waiting time at the check-in, everything goes without any complications, so that we even have time to shop for the last souvenirs from Tel Aviv.
Once we boarded the aircraft, the lack of sleep suddenly makes itself noticeable. Shortly after our departure, the most of us fall into a deep sleep. At around 7.25pm, we arrive in Zurich, where we are welcomed with Tel Aviv-ish temperatures and a beautiful sunset, with which our tour comes to an end.
At this point, a big thank you to everyone involved – from dancers, pianists, our amazing mezzo-soprano Deniz Uzun, ballet masters to all technicians, dressers, make-up artists and organizers – for a very successful and seamless tour! Wishing you all a wonderful summer!