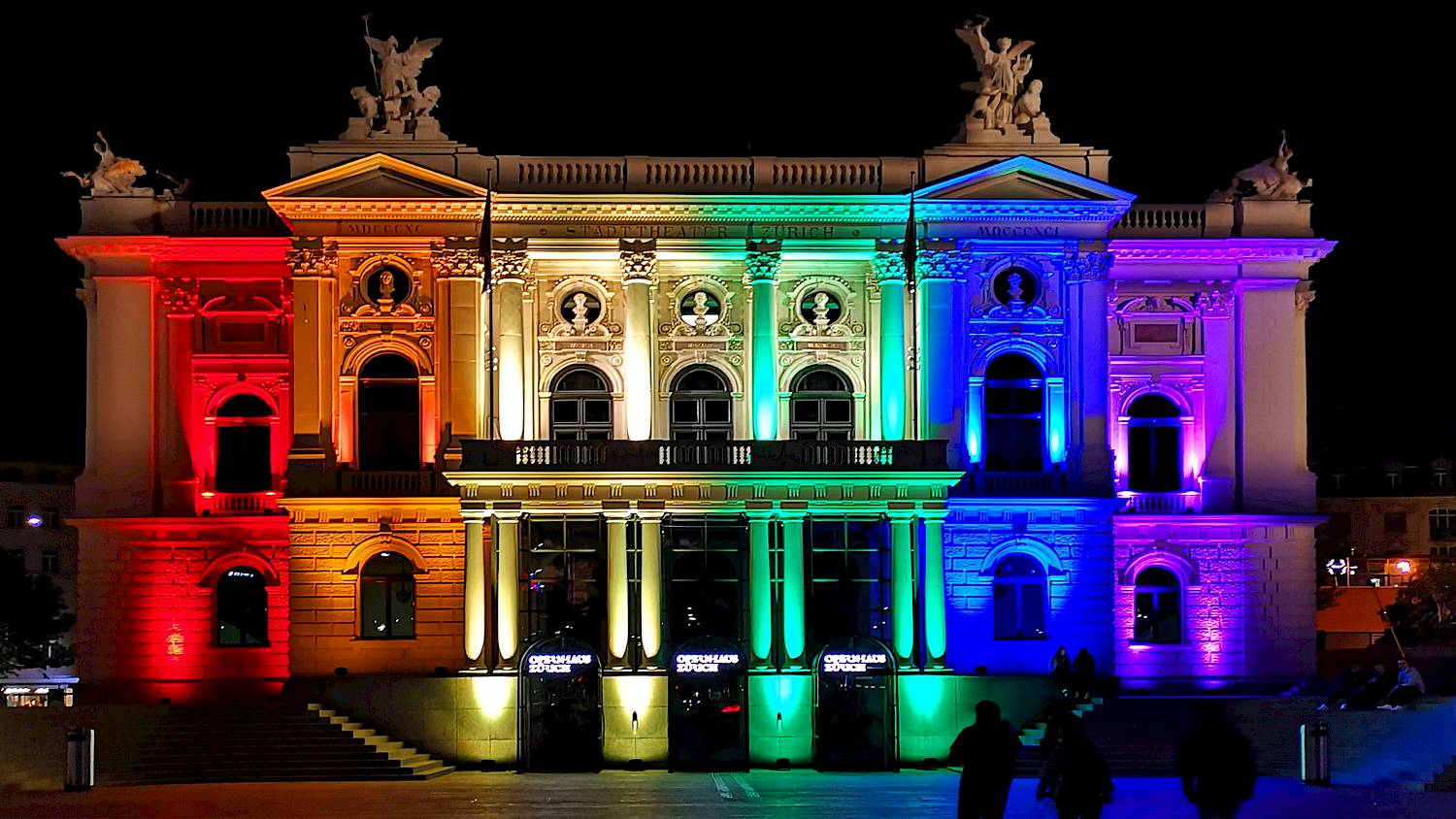 Ballett Zürich at Zurich Pride
From 7 June to 15 June, Opernhaus Zürich was shining in rainbow colours: Together with Zurich Pride, we are proud to have set a bright and colorful example against discrimination and exclusion on the occasion of  25 years Zurich Pride and 50 years Stonewall.
Under the motto #danceitout, Ballett Zürich also took part in the demonstration through Zurich's inner city, where we, together with around 20,000 people, stood up peacefully and colourfully for tolerance, acceptance and diversity.
We, the dancers of Ballett Zürich, are very humbled to actively be featured in this year's parade of the Zurich Pride under the motto «strong in diversity». We are immensely proud and honored to be jointly celebrating Zurich Pride's 25th anniversary and 50 years Stonewall at the same time. So much has changed since this tumultuous period in 1969, the world has evolved for the better and it is our sacred duty to preserve this progress and spread it where it's still needed.
The LGBT+ movement, like many other human rights movements, has had a major influence on culture and the arts. The ballet world itself is going through its own little revolution. In just a decade, mentalities have moved far forward by accepting, normalizing, and even celebrating being outside of the norm. The growing numbers of female choreographers, ethnically diverse Princes and Princesses in story ballets, as well as LGBT+ dancers are eradicating old-fashioned mentalities and in exchange are enriching our art form. 
It isn't easy to grow and bloom in a world that doesn't always understand the way we feel. It is even more difficult to embrace ourselves for who we really are if no one else does. It is one of the hardest steps to stand proud of who you are, but so liberating for whoever is brave enough to do so. For us dancers, art and ballet is our daily support. The music and the movement both help us to connect to the core of who we are, and allow us to be our authentic selves.
That is why this year, we wish to encourage whoever is struggling to embrace their own uniqueness, to find the joy of being who they truly are and to connect with others who have already found that joy.
For this year's Zurich Pride we want to invite you into our dreamy world to share our jubilation. Thanks to the immense help by everybody at Opernhaus Zürich, we decorated our float in honor of the glamorous scenery inside the Opera House. We hope to surprise you with our classically inspired outfits all dug up from past productions and with our music by our fellow dancer William Moore ands his friend Daniel Lutz. It has moved us to see how many people have helped make our wishes come true. Technicians, make-up artists, the costume and the marketing department as well as many other members of the Opernhaus have donated their time to support and help us with this journey.
We look forward to meeting you all on 15 June, and hope to see you there again on 22 June in front of the Opernhaus Zürich for ballett für alle!
Save the dates. Mark your calendar. Come join us and «dance it out»!
Cohen, Jan, Jesse & Kevin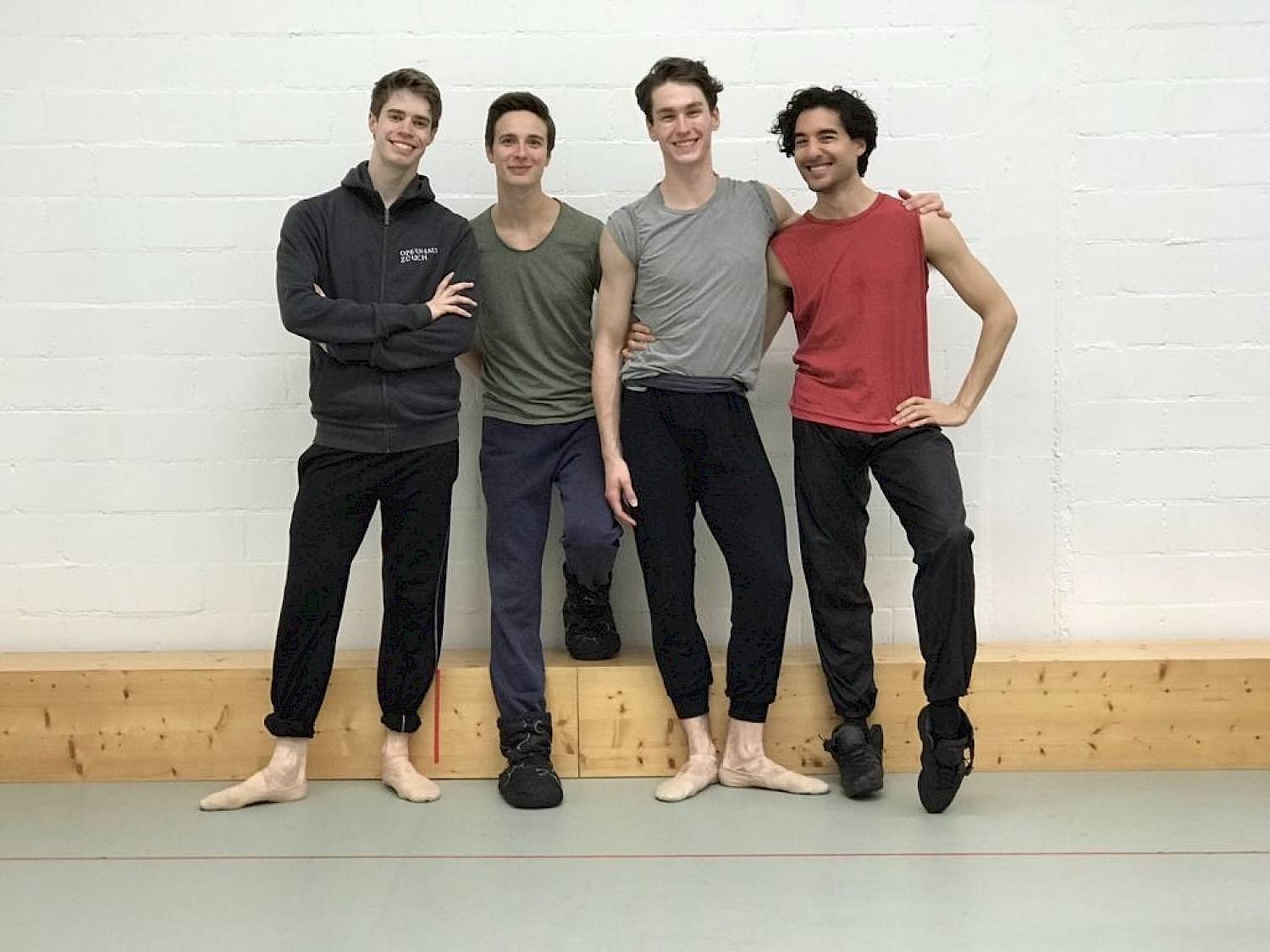 «Strong in diversity» was the motto of this year's Zurich Pride and diversity is what makes the strenght of Opernhaus and Ballett Zürich. With united and – for the most part – voluntary forces, a wide variety of people were working on a moving image of the Opernhaus to stand strong togehter for tolerance, acceptance and openness.
Over weeks, our dancers spent their free days preparing for the Pride: From collecting ideas and finding costumes to decorating and furnishing, numerous employees from all departments support the construction of the float for the demonstration parade.
The Zurich Pride Festival celebrates its 25th anniversary this year. «National gay demos» took place irregularly in Bern, Basel, Lausanne and Zurich from 1979 onwards. Since 1994, the Zurich Pride Festival has been organized as an annual event, until 2009 under the name Christopher Street Day, by voluntary work.
The Zurich Pride Festival is considered the largest LGBTIQ (lesbian, gay, bisexual, transgender, inter, queer) event in Switzerland. Every year, thousands of people demonstrate for equality and against discrimination in Zurich under an annually changing motto.
Find out more about the Zurich Pride Festival and its history here.
Fifty years ago, the Stonewall protests broke out in New York. This series of violent conflicts between homosexuals, trans people and police officers is now considered the origin of the modern LGBTIQ (lesbian, gay, bisexual, transgender, inter, queer) movement.
Until the 1960s, police raids in gay bars and nightclubs were the order of the day. The identity of the guests was established, made public, and arrests and accusations of «offensive behaviour» were made. On the night of June 27 to Saturday, June 28 in 1969, guests first resisted these police raids at the Stonewall Inn Bar on Christopher Street in New York. Many Gay Pride movements have been celebrating this turning point in the history of discrimination since this summer.
On June 15, the Ballett Zürich will take part in the peaceful demonstration of the Zurich Pride. The parade is the political manifestation of the LGBTIQ community throughout Switzerland and its friends and is the highlight of the Zurich Pride Festival. During one week, a wide range of events will be offered in cooperation with numerous other LGBTIQ associations and groups.
The three-hour demonstration parade will take place in Zurich's inner city, with around 20,000 people and 70 organizations taking part. The parade starts at Helvetiaplatz and ends on the festival grounds in front of the Opera House, where numerous free concerts and a wide range of culinary delights await.
Further information are to be found here.